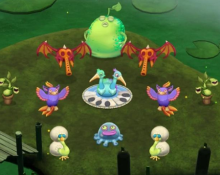 Dive into the enchanting realm of "My Singing Monsters: The Lost Landscape", a new chapter in the beloved musical franchise that invites players to uncover a forgotten world brimming with melodic mysteries. This expansion offers a treasure trove of undiscovered monsters, each with their own harmonious sounds, adding rich layers to the already vibrant symphony of Monster World.
Harmony in the Forgotten Realm
In The Lost Landscape, explorers are greeted with lush, uncharted territories that hold the keys to unlocking the ancient secrets of the Monster ancestors. Players can experiment with new combinations of monsters to create unique musical arrangements, further customizing their melodious havens.
This update doesn't just expand the geography of the game; it introduces novel gameplay elements that challenge players to think strategically about their musical menagerie. Breed, feed, and care for your monsters, and watch as they evolve, revealing new notes and sounds that contribute to the game's dynamic soundtrack.
"The Lost Landscape" is a testament to the game's ongoing innovation, providing long-time fans and newcomers alike with fresh content that harmonizes the joy of music-making with the thrill of exploration. So, gather your musical monsters and set off on a lyrical adventure to sing the song of a land once lost, now found.