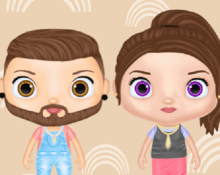 My Doll Avatar Creator Game, is a fantastic platform for unleashing your creative flair and crafting unique doll avatars. This delightful game is ideal for those seeking to explore their artistic talents, express their individuality, or simply enjoy the process of character design. Here's what makes My Doll Avatar Creator Game a must-try:
My Doll Avatar Creator Game offers an array of customization options, allowing you to create doll avatars that reflect your unique style and personality. You can experiment with various hairstyles, outfits, accessories, eye colors, skin tones, and facial features to bring your vision to life.
This game provides a canvas for your imagination, enabling you to design avatars for different themes, moods, and occasions, from casual to extravagant. Whether it's for social media profiles, art references, or adding a touch of personality to your online presence, My Doll Avatar Creator Game caters to a variety of purposes.
The game is designed to provide a safe and enjoyable experience for players of all ages. Parents can trust that their children are engaging with age-appropriate content while exploring their creativity.
In summary, My Doll Avatar Creator Game offers an immersive and enjoyable platform for designing and sharing personalized doll avatars. Dive into the world of character design, unleash your imagination, and proudly display your unique style with this captivating game.