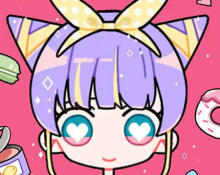 Create Your Ideal Avatar with Cute Girl Avatar Maker
Cute Girl Avatar Make, allows you to design your perfect avatar in a fun and creative way. This delightful game offers a wide range of customization options, enabling you to bring your imagination to life. Here's what makes Cute Girl Avatar Maker a must-try:
1. Extensive Customization:
Explore a plethora of hairstyle options, from short and sassy to long and luxurious.
Mix and match outfits, accessories, and footwear to create a unique style that suits your avatar's personality.
Customize eye color, skin tone, and facial features to make your avatar truly one-of-a-kind.
2. Creativity Unleashed:
Express your artistic side by designing avatars for various occasions, from casual to formal, and everything in between.
Create avatars for different purposes, whether it's for social media, gaming profiles, or simply for fun.
Whether you're looking to create an avatar that represents you, explore your artistic side, or simply have fun designing characters, Cute Girl Avatar Maker offers the tools and features to bring your visions to life. So, jump into this world of creativity and start designing your dream avatar today. Unleash your imagination and showcase your unique style with Cute Girl Avatar Maker!