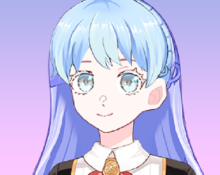 Elevate Your Imagination with the Anime Avatar Maker Game
The Anime Avatar Maker Game, takes creativity to a whole new level. This captivating game provides a diverse range of options for crafting your personalized anime avatars, allowing you to explore the depths of your imagination and create unique characters. Here's why the Anime Avatar Maker Game is a must-try:
1. Extensive Customization:
Dive into a vast collection of hairstyle options, outfits, accessories, and more to build anime avatars that truly stand out.Customize eye color, skin tone, and facial features to add your personal touch to your creations.
2. Let Your Creativity Shine:
Express your artistic side by designing avatars for various themes, moods, and occasions, from casual to extravagant.Create avatars for diverse purposes, whether it's for social media profiles, art references, or to add a touch of personality to your online presence.
Whether you're creating an avatar for your online persona, exploring your artistic talents, or simply having fun designing anime characters, the Anime Avatar Maker Game offers the tools and features to turn your visions into reality. Dive into this world of creativity and embark on a journey to design your dream anime avatars. Unleash your imagination and proudly display your unique style with the Anime Avatar Maker Game!