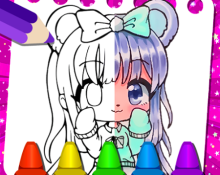 PG Coloring Gacha: Unleash Your Creative Streak
PG Coloring Gacha is a delightful online game that allows you to channel your artistic talent and create colorful, eye-catching gacha characters. This interactive coloring platform is the perfect escape for those seeking a relaxing yet engaging way to express their creativity.
PG Coloring Gacha offers a wide array of character templates, each more charming than the last. From adorable chibi characters to intricate fantasy avatars, you'll find a variety of designs that cater to different tastes and preferences.
The game provides a seamless and intuitive interface, making it accessible to players of all ages. You don't need to be a professional artist to enjoy coloring these delightful characters. The simple and user-friendly controls ensure a hassle-free experience.
In summary, PG Coloring Gacha is an enjoyable platform that caters to your artistic aspirations. Dive into the world of coloring, unleash your imagination, and let your creative streak shine. Whether you're a seasoned artist or just looking for a fun and soothing activity, this game is sure to bring out the artist in you. Give it a try and see where your creativity takes you!